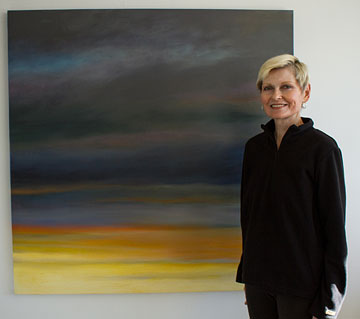 Cynthia Martin was raised in the San Fernando Valley in the early 1950's. She attended U.C.S.B., where she earned a B.A. and two teaching credentials. She has been an artist and an art teacher in Santa Barbara since 1963 and has participated in numerous solo and group exhibitions. As a fellow of the University of California's South Coast Writing Project, she has written grants and given presentations on the creative process. Cynthia also authored Solo Flight: A Bipolar Odyssey, a biography of her brother's life, accompanied by research and information about bipolar disorder.
STATEMENT OF PURPOSE: LANDSCAPE AS METAPHOR
I was raised in the San Fernando Valley, then a rural paradise, and I saw pristine fields become covered with tract homes, freeways, and shopping malls. The landcape has since played a role in my life and in my art.
My childhood friend recently reminded me that, when we were teens, we would ride our horses out to a special place of rolling hills and oaks, where we would draw and paint. One day, we arrived to see most of our beloved trees bulldozed and shoved into huge piles to make room for a contractor's grid of tract homes. Stunned, we burst into tears.
The themes of my work stem from my angst about the vanishing natural world, and I use fragments of landscape to evoke concepts of memory and loss. Large paintings of ominous clouds make a statement of warning. Sidebars of bright colors scream for attention beside canvasses of anemic skies, implying the fact that we have "extracted" from nature its essential elements to feed the voracious appetites of our ever-consuming society. My small Sudoku paintings, as well as those using random numbers, suggest that we play games with our environment even as it is disappearing. The Magic Squares (inspired by Escher) symbolize the preciousness of what is left.
–Cynthia Martin, 2012
RESUME
EDUCATION:
South Coast Writing Project Fellow, summer, 1998
Otis-Parsons School of Design, 1982
Certificate of Commercial Art, University of California, 1981
Drawing Workshop with Betty Edwards, Summer, 1980
Santa Fe School of Contemporary Art, 1976
Graduate work, University of California, 1977-1981
Teaching Credential, University of California Santa Barbara, 1963
B. A. Degree, University of California Santa Barbara, (Painting, History), 1962